ATCO Wins Canadian Family Enterprise of the Year Award
See the below announcement from the Scott Weatherford, ATCO's CEO, regarding exciting news happening at ATCO Wood Products (located in metal tech alley):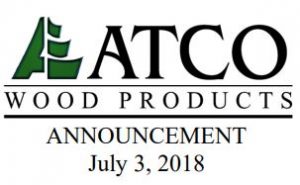 I'm pleased to announce that ATCO Wood Products Ltd. has been chosen at the 2018 Canadian Family Enterprise of the Year by the Family Enterprise Exchange.
"The Family Enterprise Xchange (FEX) is pleased to announce the winner of our Family Enterprise of the Year Award for 2018, ATCO Wood Products Ltd., a third generation family-owned business from the West Kootenays of British Columbia. ATCO Wood Products has for the past 60 years grown and evolved to become stewards of the forest and innovators in wood products manufacturing. Congratulations to the Weatherford family who will be receiving the Family Enterprise of Year Award for their dedication to a progressive work culture, customer service excellence and the responsible management of the region's natural resources."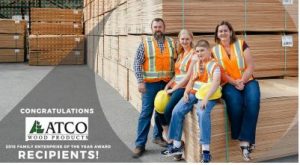 "Established in 1986, The Family Enterprise of the Year Award (FEYA) is given annually by FEX to recognize, celebrate, and promote the achievements of Canadian family businesses and the considerable contribution they make to both their local communities and our national economy. Each year business families across Canada are nominated through their local FEX Chapter and recognized at special Chapter FEYA events. The Chapter FEYA recipient is then nominated for consideration for the National FEX FEYA. Two finalists and one national recipient are elected by the FEYA Committee and invited to a spectacular National FEX FEYA Gala hosted in conjunction with the annual FEX Family Business Symposium."
It is an honor for ATCO Wood Products Ltd. to be recognized with such a prestigious award amongst so many other highly respected family businesses across Canada. This award, as well as our long-term success, is owed entirely to our employees who bring a tremendous level of dedication to ATCO every day, to our suppliers & contractors who partner with us to provide exceptional products and services, to our customers who have remained loyal to ATCO for many decades, and to our communities who have steadfastly supported our local family business for many generations. We look forward to accepting this award at the FEX Symposium in September in Ontario behalf of the entire ATCO Family, Team and Community!
Thank you to everyone who has helped make ATCO Wood Products the 2018 Canadian Family Enterprise of the Year.
Scott Weatherford
Chief Executive Officer
ATCO Wood Products Ltd.