Solving A Global Problem Right Here in metal tech alley
A quick Google search of 'plastics problem' will quickly lead you to many disturbing images, the information is hard to believe, and all of it, unfortunately, is getting worse.
The world has a plastics problem; but here in metal tech alley we are addressing this issue in a unique and innovative way.
Darrel Fry, a long-time local of Rossland, BC has some ideas on how to fix it, and his company is developing the products and process to make it happen.  "We are the Tesla cars of the plastic industry."
His company, Advanced BioCarbon 3D (ABC3D), is now a part of the climate change solution. They create plastics, carbon fibre, and graphene that are carbon negative, non-toxic and biodegradable, with engineered grade quality.  The company makes plastics and carbon fibre from a renewable resource the West Kootenay region has plenty of: Wood.
The materials ABC3D uses a closed loop system with no waste and, in a time where endless stretches of ocean are cluttered with discarded plastic, are safe for humanity and the planet.  "This tech is good for the climate." Says Fry.  "At the end of the product's life it breaks down like wood, nature can handle it and takes back the useful components."  Plants are nature's carbon sequestering tool. So when ABP converts wood into carbon fibre or graphene, they are converting CO2 from the atmosphere into an inert form that can be recycled over and over or be returned back to nature with no toxic effects.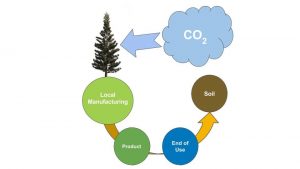 Although messages are clear and it's obvious that we, the consumers, need to use less and recycle more, progress and implementation is slow and globally uneven.  Current technology is not at harmony with our world and because of this ABC3D is looking at a new era in manufacturing that, at its core, will be better for everybody.  Their goal is a stronger, lighter, heat resistant, and waterproof plastic that works with nature as opposed to destroying it.  Darrel's team is moving forward to establish a beachhead in the plastics industry by producing, in 2018, 3D printer filaments composed of biodegradable plastic.  This blended 3D filament contains 40% ABC3D's propriety wood product and 60% conventional plastic.  With a future goal of 100% environmentally sustainable wood bioplastic.
But how can ABC3D, a small company located in the West Kootenay, take on the big plastic companies?
"It's a perfect storm."  states Darrel. "we are incredibly lucky,  there aree incredible resources here, not only natural resources but skilled professionals who enjoy the incredible lifestyle, living and working in this region offers.  These "process minded professionals" have world level skills and an entrepreneurial spirit dating back to the pioneers of our mining years."  Advanced BioCarbon 3D, well on its way to disrupting the plastics industry, is just one of the many companies, new and established, that are promising to make an impact across multiple industries at a global level here in metal tech alley.
metal tech alley is the new game-changing economic development marketing program whose aim is to promote the story of the West Kootenay region's evolution into a highly attractive and competitive location for business and livability, with a major focus on the global business and innovation clusters that are leading economic and business change—not just in the region but from a global perspective. Situated in the South-Eastern part of British Columbia, it is a cluster of great minds and opportunities pioneering the Fourth Industrial Revolution with leadership in metallurgical science, industrial recycling and the Internet of Things (IoT). Designed by the regional economic development office, Lower Columbia Initiatives (LCIC) is committed to a cohesive, comprehensive, region-wide approach to the challenges and opportunities of economic development in the Lower Columbia Region.
Interested in learning more about what this area may be able to offer you or your business?
Check out www.metaltechalley.com for information on current business news, regional resources, and local initiatives.
Contact Terry Van Horn, LCIC Executive Director
250-364-6461 / tvanhorn@lcic.ca