Thinking About Making the Move to #metaltechalley? Timing is everything – do it now.
It's time you start thinking about making the move to
metal
tech
alley
– but don't think too long.
Where is

metal

tech

alley

?
metaltechalley is a region located in Southern British Columbia, Canada that serves as a clustering of industry services supporting metallurgical and intelligent materials science, industrial recycling and emerging technologies in Big Data and Internet of Things (IoT).
With access to global markets and the Canada-US border just minutes away, metaltechalley is prime for investment. With an incredibly affordable environment for both business and lifestyle, the region boasts an extremely well-educated and diverse workforce to support continued business growth and innovation.
Who's already made their play?
With businesses and organizational leaders such as MIDAS (now the Selkirk Technology Access Centre – STAC), Teck, i4C already located here, the region has assembled a cluster of resources that can help businesses start up and innovate with global capacity. Check out the many other global industry leaders you'll be joining in metaltechalley when you're ready to make your play: metaltechalley.com.
What's in it for you?
We clear the path for you and your company to succeed. metaltechalley has everything you need to research, create and grow a career when it comes to metallurgical and advanced materials, industrial recycling, and big data technology.
Are you an adventure-seeking entrepreneur who likes to hike, ski, golf and fish? Or does your idea of adventure mean innovating and taking on exciting business ventures in newly established terrain? Whatever it is, our unique mountain lifestyle has something for everyone.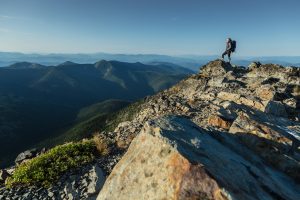 Photo Credit: Ryan Flett/Tourism Rossland
Resources available to you include:
Access to applied research, commercialization and digital fabrication training facilities.
Access to production and testing facilities and equipment.
Professional services and access to venture capital.
Affordable industrial lands and prime business real estate.
We help by:
Providing you with competitive advantages and world class expertise.
Providing access to investment and getting your product to market faster.
Saving you time and money.
Supporting your success.
Time to make your play.
Your adventure lies here in metaltechalley, so what are you waiting for?
Timing is everything – if you see an opportunity for your business or start up idea, contact us today.