Trail, BC Leads Industry Change
Metal Tech Alley is an exciting new economic development strategy for southeastern B.C.
by Marie Milner, posted at Kootenay Business Magazine
An emerging era, widely recognized by technology and innovation leaders as the Fourth Industrial Revolution, is generating excitement and questions about the application and potential of new technologies. Industry, biology, the environment, the economy—our entire future, in fact—will be affected, and a beautiful area in southeastern British Columbia is becoming a local nexus for this era.
More than 75 established companies that are related to metallurgy and the industrial sector, and also focused on environmental protection and sustainability, are situated in the vicinity of Trail, B.C. This map shows the identity and location of these companies.
Thanks largely to the company that is known today simply as Teck, Trail has long been known as a centre of excellence in the metallurgical sector and industrial recycling. Trail is again taking a leadership role, this time in related technology.
The strategy
The Lower Columbia Initiatives Corporation (LCIC) is capitalizing on the depth of local resources available in the metals, recycling and technology sectors. Its powerful new economic development marketing strategy is attracting industry-minded professionals, entrepreneurs and businesses to the region.
The areas of focus for the strategy—branded "Metal Tech Alley"—include industrial recycling, metallurgy, material sciences, the Industrial Internet of Things and big data.
In a July 2017 media release, Terry Van Horn, executive director of LCIC, said, "This is the Fourth Industrial Revolution, evolving right in front of us, and we are leading it with our visionary collaborators who understand the endless opportunities to cluster both industry and brain power."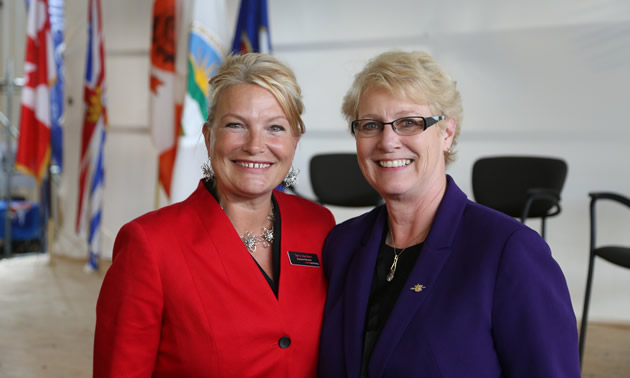 The Metal Tech Alley strategy has developed strong momentum since LCIC launched it in May 2017. LCIC is taking a three-pronged approach to attracting interest among technology experts and innovators:
Recruiting businesses to move to the Trail area or open satellite offices there;
Recruiting talent—entrepreneurs and experts—in the relevant sectors;
Engaging government officials on the region and all of its assets, so that they can share the Metal Tech Alley story with businesses outside of B.C.
"The whole point of developing this beautiful brand and renaming the area is to differentiate ourselves and to embrace our expertise in these sectors," said Van Horn. "We needed to have a different story with a new narrative about the region."
Metal Tech Alley advantages
In its marketing, LCIC points out that the advantages for potential newcomers to Metal Tech Alley go far beyond elements that can be found in many other B.C. communities. Yes, the area is saturated in natural beauty and has year-round recreational options for an enviable lifestyle. It also offers some important, harder-to-find practical aspects:
A regional airport and proximity to the U.S.
Affordable industrial land
Affordable residential options and lifestyle
Available expertise in multiple technology fields
Safe communities
A school system offering education from kindergarten to post-secondary.
This rare and comprehensive package of advantages is available to businesses and individuals in Metal Tech Alley.
Technology partners
Brian Fry and his partners at i4C Innovation worked with Van Horn and her team to make Metal Tech Alley a reality. Fry, a long-time technology entrepreneur, said that Metal Tech Alley is perhaps the most advanced rural economic development strategy he's ever come across.
"It's a big mandate if any one individual thinks they can pull it off alone," he said. "But because we have a clear strategy, we now have partnerships with industry. We're already having conversations with senior personnel who are very excited about the potential we're bringing to the table."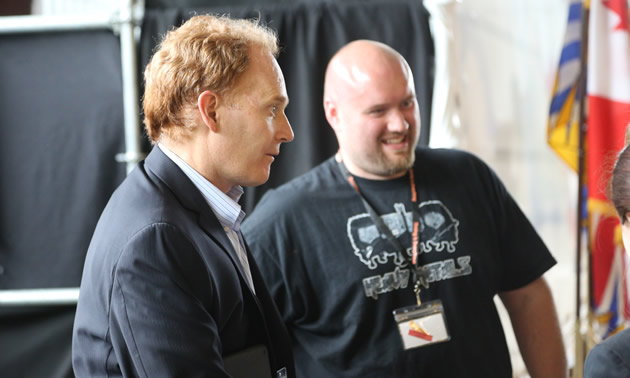 The i4C Innovation Centre occupies a 40,000-square-foot building near the Trail airport, and functions as a hub that offers lab, production and testing space for companies that want to innovate specifically around the Industrial Internet of Things.
The building is equipped with enormous power capabilities, it has a sophisticated air filtration system, and its large warehouse area has the capacity to ship high volumes of products. i4C offers its associates mentorship and technical assistance as well.
Fry and his i4C partners are working to attract companies involved in Industrial Internet of Things technology. Specialists in the areas of data collection, processing, analysis and commercialization will be contracted by i4C to create customized service packages for local and global clients.
"We're a part of the overall Metal Tech Alley strategy, on the technology side," said Fry. "We specialize in industrial situations, and when you bring industry and technology together, you can move much, much faster."
"i4C is doing extraordinary, high-level, unbelievably next-revolution things that will change our economy," Van Horn said. "Another integral part of Metal Tech Alley is the MIDAS facility."
MIDAS  is a local training facility and digital fabrication lab that opened in 2016. It is focused primarily on supporting entrepreneurs to develop prototypes for the metallurgical sector; on supporting the development of small- and medium-sized businesses through collaboration, the adoption of technology and the creation of new, marketable products; and on promoting related skills training.
Brad Pommen, lab director for MIDAS, looks for ways to build value from metallurgical materials so that the region can more easily ride out the tough times in the metallurgical markets.
"Metal Tech Alley is an umbrella that everybody can get under," Pommen said. "This is a resource for the region, and if we're able to collectively advance the technology, then everybody can benefit from that."
Residents and visitors to beautiful southeastern B.C. have always enjoyed the active, outdoor lifestyle the area is famous for. Now they can also enjoy being part of a world-changing technological shift that is bringing with it a wealth of personal, business and career opportunities.