A customer calls looking for help with materials for a fast-approaching marketing event, or replacement labels after a missed shipment from their supplier. It's calls like these that excite Ingrid Hope, owner of Hall Printing. Problem solving drives innovation and breakthroughs, and that's the environment that she excels in. Ingrid became the print shop owner in 2005, after spending over a decade familiarizing herself with the industry itself. As a West Kootenay mainstay, Hall Printing has a rich history, providing extensive print services in the Lower Columbia for 100 years. In her 15 years as owner, Ingrid has bought out two competitors and opened a second location in Nelson, BC to complement the flagship location in Trail, BC. To celebrate Hall Printing's centenary birthday this year, Ingrid transferred part ownership to her son Mackenzie, who plans to carry on the family business after his mother retires. But Ingrid has no plans to check out soon; in fact, she's not only running a business, but is also currently leading manufacturing of PPE face shields for Austin Innovation. Her favourite part of the job remains her customers and helping them bring their vision to life through print. A natural connector within the community, Ingrid is open-minded and genuinely invested in others' success. She is proud of the products her team produces and of Hall Printing's legacy.
Tell us about Hall Printing.
Hall Printing is a commercial print shop that offers a variety of print and copy services under one roof, including digital and offset printing, large format printing and scanning, designing for print, bindery, laser engraving, and mailing services.
Back in the day, all we had was presses, so printing was really expensive because people had to print in volume – 10-to-20,000 pieces of paper per run, for example. I still call us a commercial printer rather than a digital printer because we have the presses, so we can still do traditional printing. We do everything from walk-ins who need their knitting plan blown up or their will copied, to runs of 10,000 books or 20,0000 flyers – and everything in between. Our shop is a little different than most big city shops in that we have in-house equipment for everything because we don't have complementary service shops. Our staff has to learn to run a copier and press, as well as bind and cut; we do it all.
We really appreciate that forestry and other resource industries have backed and maintained us as the region's printing shop over the years. Timeliness is important for them, so Hall Printing invested in a lot of equipment that you wouldn't typically see in small shops. Small businesses have then complemented our corporate clients to keep us prospering.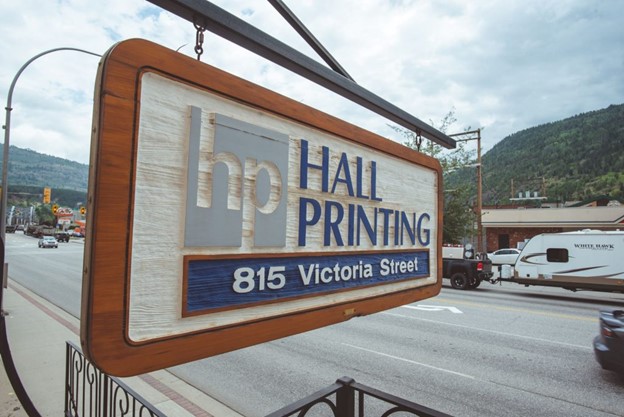 Can you provide some examples of the equipment you have that a smaller print shop typically wouldn't?
We invested in a large press – a Ryobi, a direct imaging press – about eight years ago. It allows jobs to go directly to it digitally with plates made right on the press. Some of the equipment I invested in also had to do with greening up our business. In traditional printing, there was only a two-colour press, so if we wanted four-colour printing, we had to put the paper through twice. This press has all four colours and because there's no water involved in the plate processing, there's no chemical waste. It's also a faster setup and wastes less paper. It can print about 6,000 sheets of paper per hour, so it's really made us more cost-effective. We're proud that it's a green alternative as well.
The large format is a big addition, and allows us to do posters and labels, or indoor signage. In the Nelson office, we have a die cutter, which lets us make specialty shape labels. We can do floor decals and consumer product labels, too – like for lotions and teas. Someone with a large market could get 10,000 labels really cheap through a large company, but we do short runs, so if they only need a hundred we can accommodate that. Our equipment is based around low volume at economical pricing.
What else sets you apart?
I believe that we're really dialed into the businesses around here; we do a lot of business-to-business work. We ask the right questions, including what you're using it for and how we can make it better. Whereas if you order online, it's easy, sure – but only if you know exactly what you want and you already have your artwork. But if your product changes, or you have a different use for your product, sometimes you need to talk to an expert.
For example, yesterday I was talking to Rustic Crust; they have a new product that they need labels for. I asked what they're putting the label on, whether it's going in the freezer and/or the fridge, and if it needs to be vinyl or paper. We make sure to ask questions to make the product functional and suitable for their purpose. So I think that's our advantage; we're local and we care about every business around here. We want to see everyone succeed. We keep up on what's out there, including the newest papers and project types. We've also been here for 100 years, so we know a lot of people and we're happy to connect people if needed.
There's a lot of history in 100 years; could you take us through some of Hall Printing's?
Hall Printing was founded in 1920 by Elmer Hall Senior. He came to Trail, bought the Trail Creek News, renamed it the Trail Daily Bulletin, and then eventually converted it into a print shop: Hall Printing. In the 70s, it was purchased by Mel Sinister, Terry Campo, and Rosie Catalano. It's a little convoluted because some of the people involved worked for Hall Printing prior to becoming owners, like Dave Chartes, who came on in the early 80s as an employee. He and Terry eventually split the company in 1988, with Dave becoming full owner of Hall Printing while Terry and Rosie were full owners of Hall (Basics) Stationery. Because nobody wanted to give up the name, there was confusion between the two businesses until Hall Basics became Mill's. I took over from Dave in 2005; prior to that I'd been the front office receptionist since 1990.
This year marks another milestone, as my son Mackenzie became part owner on the company's 100th year in business. Mackenzie began working at Hall Printing as a teenager when he took an after-school job in 2006. He went on to take Marketing Communications at BCIT, and danced professionally for a year before returning to the area and taking a job at KBS (EZ Rock) in Nelson. When I bought Heritage Printing in Nelson, he took over that location. Then when the Redfish Grill burnt down, McLaughlin Printers flooded and closed. At first I offered to do their printing while they were trying to get up and running again, but eventually I offered to buy them out. When the owner accepted and retired, we moved our shop from Front Street up to their Baker Street location. Mackenzie still runs that shop, where we've grown from two to five employees; during normal operations we typically employ thirteen between the two locations.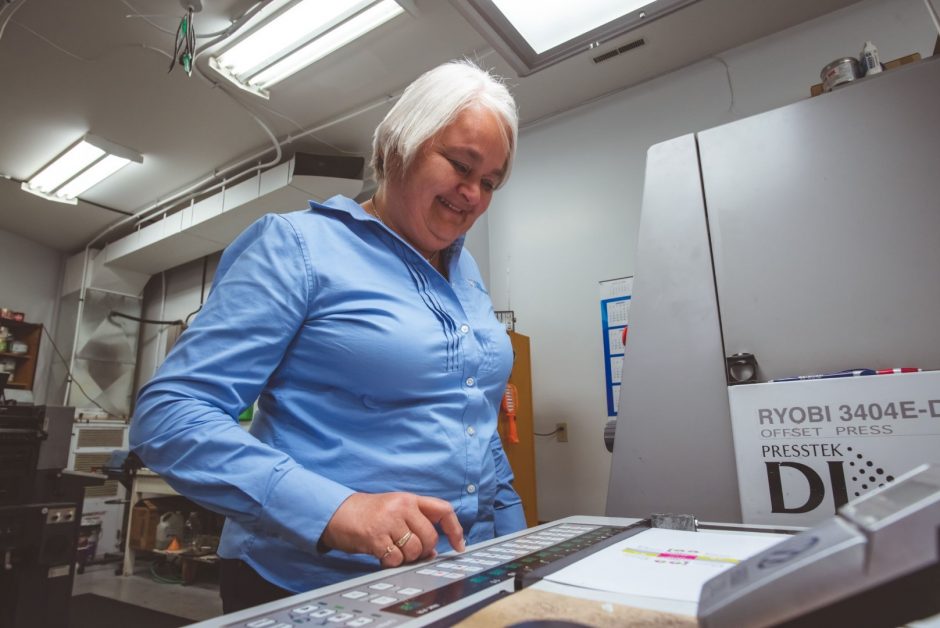 How has your business been impacted by COVID-19?
Right away we saw a decline in sales of around 40%, mostly due to the decrease in walk-ins. Nelson has a ton of events, so there's usually a demand for marketing materials, but that immediately dried up due to COVID-19. That loss, plus cancelled tourism projects, and then the loss of restaurant menu printing, was definitely felt.
For the time being we've had to reduce our staff. Thankfully we cross-train all the time, so we have people that can cover other positions; our pressman is currently running the bindery and the press room. We've spent some of this period trying to accomplish stuff we previously didn't have time for, like our new website, which should be launched soon. It's mostly business as usual, but people don't come in – we ask them to send their files digitally instead. We're also delivering on an as-requested basis.
We're also working with Austin Innovation on producing face shields. We're doing the laser cutting of the shield part and Able Plastics is doing the brim cutting. All components are flat packaged and when an order of 50 comes in, we just put the shipment label on and they're ready to go! They're also available in smaller quantities; just order via email and pick up at either of our locations.
Why have you chosen to position Hall Printing in Metal Tech Alley?
I think it comes back to the manufacturing background. I know that most people don't think of us as a manufacturer, but when I started here that was Dave's mantra. When you break it down, we're taking raw materials plus labour and making products for profit, which is manufacturing. The printing industry was the fourth largest manufacturing industry in Canada at one point. Printing includes packaging, labelling, newspapers, and so much more – it's actually quite a large industry when you look at it like that.
The mindset to be lean and efficient in all manufacturing processes is really what resonates. It's the next phase in where Metal Tech Alley is moving. At Hall Printing, we're half digital – we have a lot of computers – and in printing the Internet of Things innovation is already involved. In the bigger places all printing machinery talks back to computers that provide data on things like the rate of speed, how the machinery is working together, if there are problems between machines, etc. We're not big enough to do that, but when I go to conferences and see how it's working it's like wow – that's cool! It's always neat to see the next thing, and I think that's why I support Metal Tech Alley so much.
It's also really inspiring for me to work with people like Jason Taylor (Selkirk College). Back in March he was involved with the face shields manufacturing in collaboration with Mary Austin and her team (Austin Innovation) when they launched the stopgap measure to meet the increased demand for COVID-19-specific PPE. You need those kinds of minds to move forward, and you need to invest in R&D. If we can nurture that locally, then maybe we can attract more people here like that cool manufacturing company that's producing methane from wood products in Fruitvale(https://www.nelsonstar.com/news/renewable-natural-gas-facility-targeted-for-fruitvale/). When we build that culture, we attract like-minded people. This area has an amazing mind resource and it's great to see that people are collaborating and getting those brains to work together. 
I think we'll continue to slowly evolve our equipment to support up-and-coming industries; that's one of the reasons I follow all these new businesses – to see where printing fits in. Twenty years ago people said that printing was going to go away, and it never did. In 2008, when the economy went kaput, the U.S. lost 2,000 print shops; we survived because we listened and brought in the equipment needed to support the local economy. Printing fits in most business models somewhere; it's just up to us to follow the trends. Packaging and labelling is one of the big growth parts of printing, so I think that we'll eventually acquire more pieces of digital finishing equipment to provide different options. Marketing materials is another area for growth – there's still such a need for marketing. I see so many businesses falter or fail because they don't tell anybody what they're doing. I live in Fruitvale, and if I don't drive downtown there are sometimes businesses that are there for three months before I even know about them.
As for the region, I'm super positive about the future. The efforts to keep supply chains more local and lower our carbon footprints means everyone is trying to do more locally – and we have the resources here. This whole COVID-19 situation and the challenges it's created in getting needed materials – like plastic – has made people realize we should maybe be making more here. I really think that's going to be a mindset growth in the world: trying to manufacture closer to home. We grow our food closer to home, so why not our industry? We have the space, we have the resources, and we have really sharp minds. We're set up to be a good place for growth.