Luxury can mean so many things. For Jesse Crockett, valet help with his family's six sets of skis upon first arrival at The Josie Hotel was a rich experience. He was refreshed by the level of customer service – and fresh pow – and before he could say, "concierge," a new relationship formed. As The Josie's General Manager, Jesse can't complain about the stunning view from the new boutique hotel. The big experience the small establishment provides for all guests is impactful, offering a family-friendly environment that also handily serves as an upscale choice for locals looking to temporarily depart from their low-key lifestyle. The award-winning hotel, located in Metal Tech Alley, offers amenities like outdoor cedar saunas, ski valet, and a spa – not to mention The Velvet Restaurant & Lounge, where French-inspired cuisine is complemented with refreshing cocktails and paired with educated wine staff pouring B.C.'s finest grapes. The feast continues on the mountain slopes, where Red Mountain Resort delivers 3,850 acres of pristine skiing in an environment that is best described as "still keeping it real." Locals only whisper "Red," but nothing this good can be kept a secret for long. After years of industry experience by way of SilverStar Mountain Resort and Vancouver's Fairmont Waterfront Hotel, Jesse is excited to run The Josie at Red. His dream to become an adventure guide was redirected when he recognized he was accident-prone, and management seemed like a more attractive route. So it was down the Powder Highway to this newest venture, where it's all about building a passionate team to help share the region with their guests and the world.
Tell me about your role as General Manager of The Josie Hotel.
I would say I'm the manager of fun! Ha! Seriously, though, we're a 106-room boutique-style hotel with all hospitality facets. We have our restaurant, The Velvet Restaurant & Lounge, as well as banquet space and ballroom, so I'm basically leading and connecting all of our different departments. Because we're new, a big part of my job is driving the sales and marketing program to raise international awareness. It's important to sell our hotel but also increase awareness of Red Mountain and Rossland in general.
I started here at the end of the first winter season, in April. The hotel opened in November of last year, so it's only been open a year, but a lot has been accomplished. There have been a lot of awards, which has been nice. The World Ski Awards just named us the Best Ski Boutique Hotel in Canada, which is pretty exciting, and then USA Today named us the No. 2 best ski hotel in North America.
Congratulations, that is exciting! Can you tell me how The Josie provides a different experience than other hotels?
That's a great question. For us, offering a boutique style – which I love – is a big thing. It's different from what else is on offer in the North American marketplace, especially in BC. You don't find slope-side hotels like us at very many – if any – of the Interior ski resorts. There are a few boutique-type hotels in Whistler and major centres like Vail and Aspen, but those are the big players. When you find something the size and quality of Red Mountain with a hotel like ours there, it is very unique. The Josie is the first luxury hotel built at a ski resort in Canada in the last 10 years. Geographically and experientially that definitely makes us different.
Service-wise, we have all the luxury boutique services, including a ski concierge. When I came here for the first time with my family and my four kids, it was the greatest to be greeted by the guest services team at the entrance and have everything taken care of from that point on. They expertly handled all six pairs of my family's skis and quickly got us into our rooms and onto the slopes; having that all taken care of when you're off the beaten track is very unique!
Then there's our restaurant, The Velvet. It's headed by Executive Chef Marc-Andre Choquette, who's put together a French-influenced menu that's tied to local farm-fresh ingredients. Fresh is absolutely the key tenet of the restaurant. The team works tirelessly to have the freshest ingredients and make everything from scratch; it provides a dining experience that you're not going to get in many places within the Kootenay region or Interior BC yet. I think we're putting ourselves up against the best restaurants in Canada, which is exciting.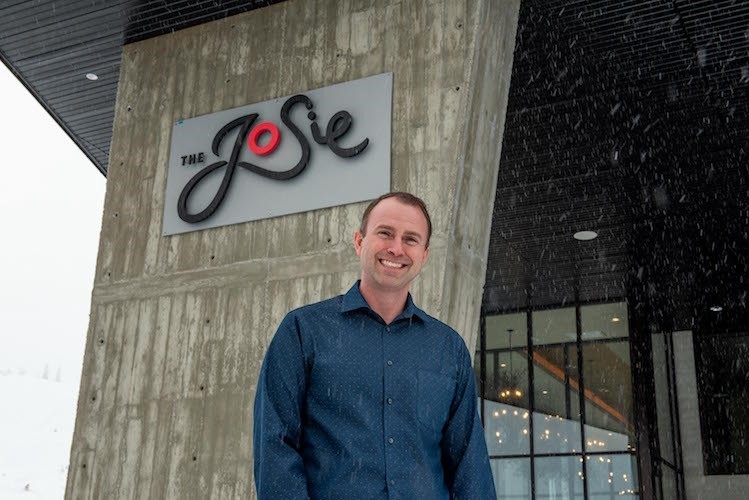 I understand your parent company generally sets up in pretty world-renowned international locations. How'd they choose Rossland, and how is the hotel complementing the ski resort?
Noble House Hotels and Resorts manages the hotel. The ownership group really looked at this as a special place. They saw the potential in the community, the potential at Red Mountain, and the growing opportunities throughout the region. With the Spokane International Airport only two hours away it gives both our American and international friends direct access, too. We're in a growth phase here, and I think there's such strong potential for building a strong community and a strong resort. I think the biggest thing, and where it ties in so nice, is that it's such a unique offering – it's different from the other resort accommodations. Red recently opened a new hostel, there are condos, and we're the luxury boutique. Everything works together nicely for all different styles of guests.
With the season upon us, can you tell me what you're excited about?
I'm definitely excited for more snow, which is coming! It always comes. We're excited to go into our second operating year with an eye for enhancement. We want to really enhance the whole experience, grow our events, and welcome more international guests. A big focus for us this year is creating a fun après environment at The Velvet and adding more music, as well as improving the lunch environment to really focus on offerings for the kids. We want to be a good option for a place to come with your family, especially after a day of skiing. And we're going to continue presenting a real culinary experience, and highlighting the fantastic culinary team's work with great Okanagan wines and wine events.
Also, Red's new lift adds another 300 acres. The Topping Creek Chairlift is great, and I think it's really going to spread skiers across the mountain. It's definitely adding more beginner to intermediate terrain on the lower side of the mountain. I believe the addition also puts Red into a new category – top 10 in North America, size-wise.
What professional steps have you taken to get to where you are today?
I started out with a tourism management degree; originally I wanted to be in adventure tourism. I thought the greatest thing in the world would be to work as a raft and ski guide, but I finally came to the realization that I'm accident-prone, so maybe guiding wasn't the best choice. I did my adventure tourism training in Golden and Cranbrook, so I got to know the Kootenay/Rockies region. After hurting myself for the tenth time I realized I also liked the management part of my education, so decided to finish my business degree in Tourism. Coming out of school I was fortunate to have great opportunities; I worked at the Fairmont Waterfront Hotel in Vancouver, which was one of the best jobs I could've had to really understand the industry. Later I joined SilverStar as the Hotel Manager, and went from two to four hotels building their portfolio, which was also great. When you're working for a single resort sole proprietor, learning how to watch your cost but provide a great experience is key, and we did that well. As my position grew, I also took over food and beverage and became their Hospitality Director. We renovated multiple restaurants and expanded on the different event offerings, including opening a spa and growing the wine festival. With the seasonality of a ski resort, finding ways to draw people during different parts of the year to drive business was so important. I've helped grow and change businesses in the hospitality industry on many sides, so it put me in a great place to move into the GM role here at The Josie.
Do you still take advantage of your environment and get out skiing?
Absolutely. Red is one of those mystical resorts. Everybody knows about it, but not everybody's been here yet. When I started considering this role I came out to see the area, see Rossland, see the resort. It was always somewhere I'd wanted to visit. Once the family and I started skiing the area we definitely fell in love. It was very quickly apparent that this place has everything anyone needs on the outdoor side. There's the ski resort, which offers some of the best skiing in North America, and then there's biking, and hiking, and all the adventures you'd ever want. As I mentioned, I have four kids, and we bike and ski as a family. So with Rossland three minutes away from a ski resort, it certainly had huge appeal as a place to live.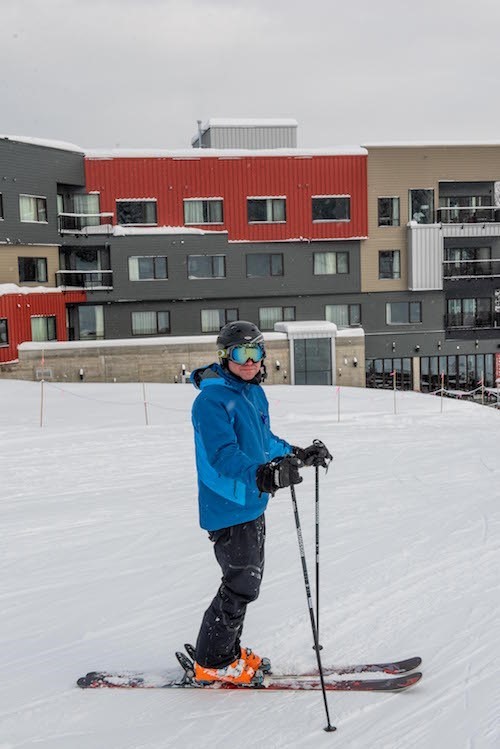 Does The Josie partner or collaborate with any other businesses in the area?
Of course, we already have a great relationship with Red, and our success is their success. I sit on the Tourism Rossland board as well. There's a huge opportunity for us to work together to share all this region has to offer. The board is made up of different stakeholders from the community, and it's a very productive group. Everyone works together to grow tourism that supports business 12 months a year. Tourism dollars generated by the MRDT tax – so taxed off of accommodators – go through the government and are paid to Tourism Rossland. So a hotel like ours, which is going to bring in so much extra revenue, will substantially increase the funding compared to previous years. That said, all accommodators need to look at how we expand our seasons. Winter will be successful with the ski hill in our favour, but how do we work together to grow? We need to draw awareness to how we're a year-round destination to create sustainability for all the different types of businesses that are in this community.
Lastly, what do you see happening in the area in the next five years?
I think an increase in festivals and events in spring, summer, and fall to really draw in clientele and visitors to the area will be a big regional initiative. I think the direction we're going for is the entire community working together. And that ties in involving local art, culture, music, and culinary into the events and festivals we hope to help build. I think creating new experiences that all operators here can participate in will make the community thrive. Growing our wine events – like wine master dinners with certain wineries – is part of the plan. Making the Red Teeth Mountain Wine Festival into a longer and larger event and bringing in some different music components to round out what the hotel can offer is also on the table. I always like to look at bringing in music, culture, food, art, and all different kinds of things to grow events that appeal to different guests and clientele. We want to give something exciting and unique for locals and guests alike to experience at The Josie.